2017 was a great year for technology, especially for Apple and Samsung.
Apple has released iPhone 8 and yet they've celebrated the 10th iPhone anniversary with the iPhone X model.
On the other hand, Samsung has continued their strike and produced one of the most beautiful smartphones in 2017.
Both companies have been rivals for a long time, but which company produces better smartphones and which company is getting ahead?
Everyone has a different opinion, but statistics and facts can prove who's better.
iPhone 8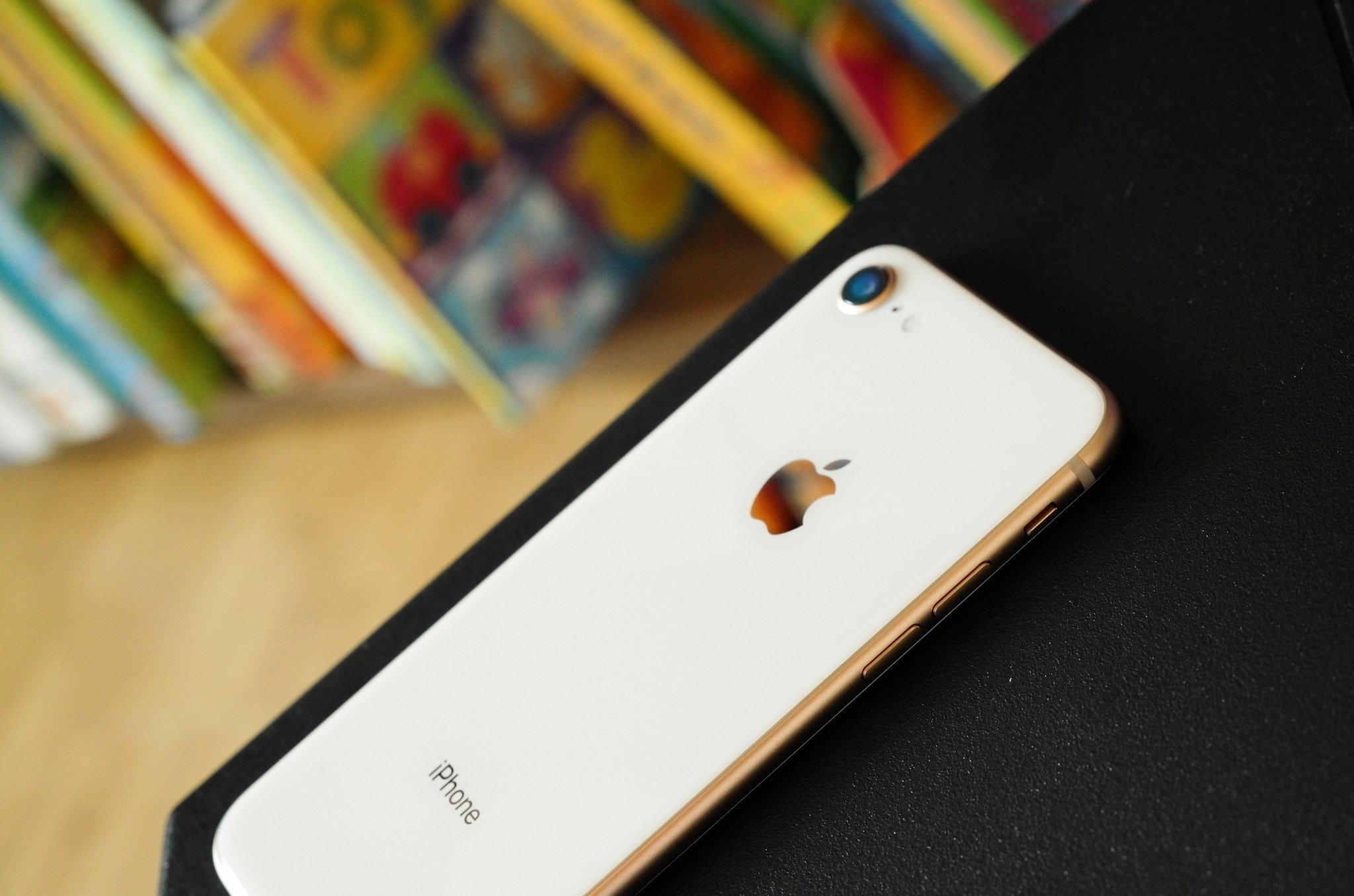 iPhone 8 is a phone which generated the least excitement among all other iPhone phones.
The reason for that might be due to the preparation of the iPhone X to celebrate the iPhone's 10th birthday. There's no actual answer why Apple release two phones at the end of the same year, but it's needless to say that the iPhone 8 was overshadowed by an iPhone X.
However, there have been some significant features which aren't visible to the eye. The design has stayed the same, and it's the same design which has been featured in 2014 on the iPhone 6 model and has been used since now.
The screen of the iPhone 8 is now made to be pressure-sensitive with the 3D Touch. A home button is again; integrated into the Touch ID like with the previous iPhone model, and there's no headphone jack as well.
The iPhone 8 has gone through minimal changes on the exterior, but have had major changes on the interior. It has a new A11 bionic chip which has just been introduced to us, and it's incredibly fast. It's made to combine two high-performance cores with four cores.
GPU of the iPhone 8 is specifically designed and made by Apple. The newest camera of the iPhone 8 is truly amazing, and since the HDR is automatically ON, you will get the best photos possible. It's considered to be one of the top-leading cameras in 2017.
Long waiting wireless charging has finally been added to the iPhone 8. It features a fast charging option where you will be able to charge the battery up to 50% in just 30 minutes. However, to be able to fully use the fast charging option, you will need to purchase the USB-C lightning connector at additional cost.
It's a real shame that the iPhone 8 still comes with a 5W power adapter, when it can reach higher charging speeds with the USB-C lightning connector. It's one of the things users weren't happy with, simply because you need to pay extra for something that has been integrated into the phone already.
Samsung Galaxy S8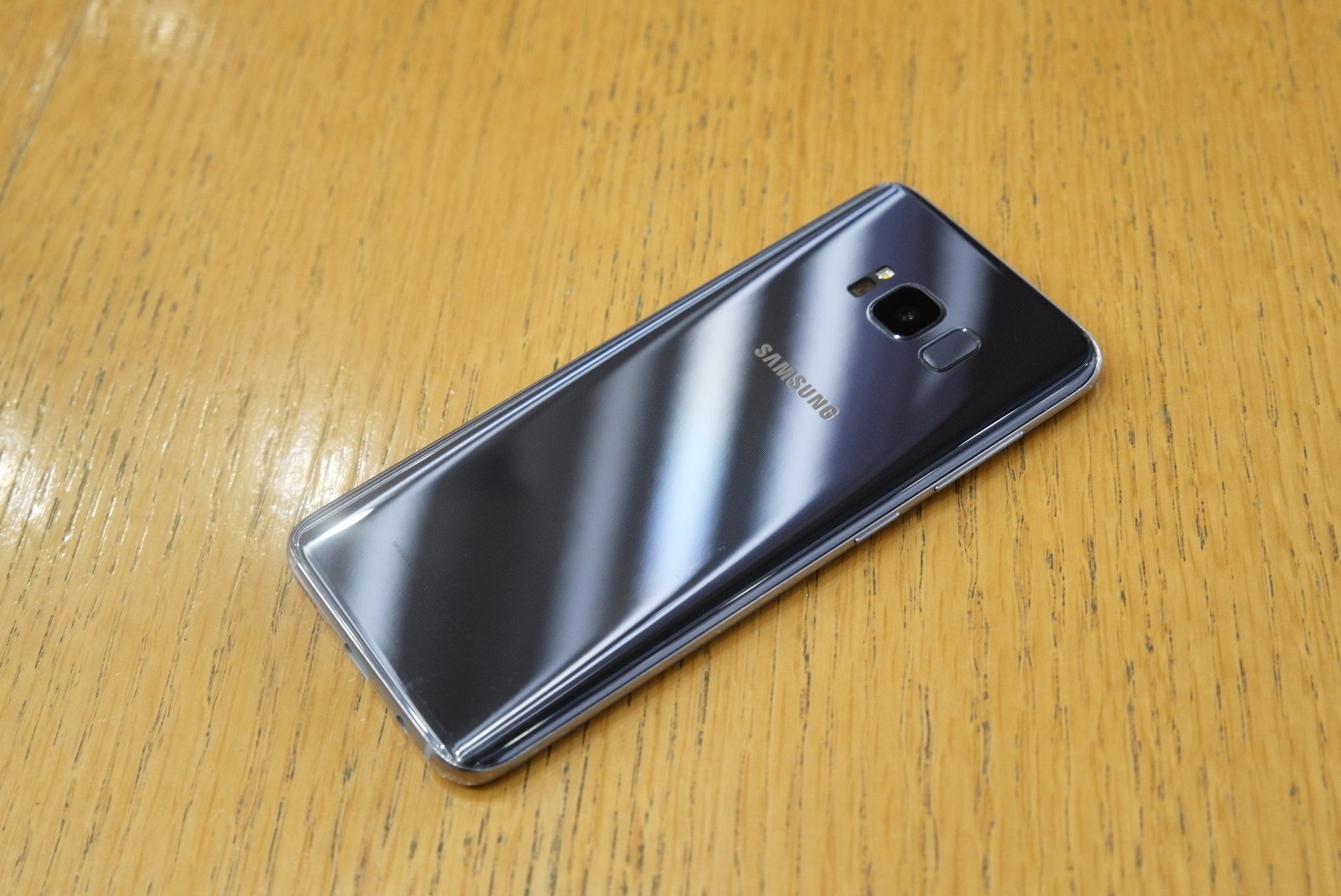 Samsung is constantly working on developing their new smartphones, so the Galaxy has many upgrades and improvements every year – and the Galaxy S8 is real proof.
Samsung really puts a lot of effort and time into the design of their smartphones, and that's why Galaxy S8 can be easily voted one of the best-looking smartphones in 2017.
With S8 you will get a fully working version of the Samsung's smart assistant Bixby. It's still in a beta stage, so don't get your hopes up all the way.
Galaxy S8 has both glass sides, and the edge-to-edge display really makes you feel connected to the device in some way. The edge-to-edge display comes with a resolution of 2,960 x 1,440 pixels which provides an amazing view from any angle, and it's something everyone will enjoy.
We can agree that it's one of the best displays in 2017 so far. Watching HDR videos is very enjoyable, and the display itself takes up to 83% of the front, which goes along with the futuristic design of the smartphone.
As mentioned above, the flawless design is enough for now, but it's time to see what's in the phone and will it deliver to your expectations.
Galaxy S8 is the first phone to feature the new Snapdragon 835 processor, which is designed and manufactured to deliver better than previous Snapdragon processors.
Along with the processor, it features 8 GB of RAM, and it has 64 GB of internal storage which is always upgradeable through an SD card slot.
Galaxy S8 comes with a Smart-Split feature which will make multitasking, on such a big display a real ease for the users. Bluetooth has also been upgraded and it can reach a better range, but it also gives you the ability to stream music up to 2 different devices at the same time.
Facial recognition is used in the Galaxy S8. It's not perfect in the dark, but works smoothly otherwise.
The 12-megapixel camera hasn't changed a lot since the Galaxy S7, however, there are some minor improvements.
iPhone 8 VS Samsung Galaxy S8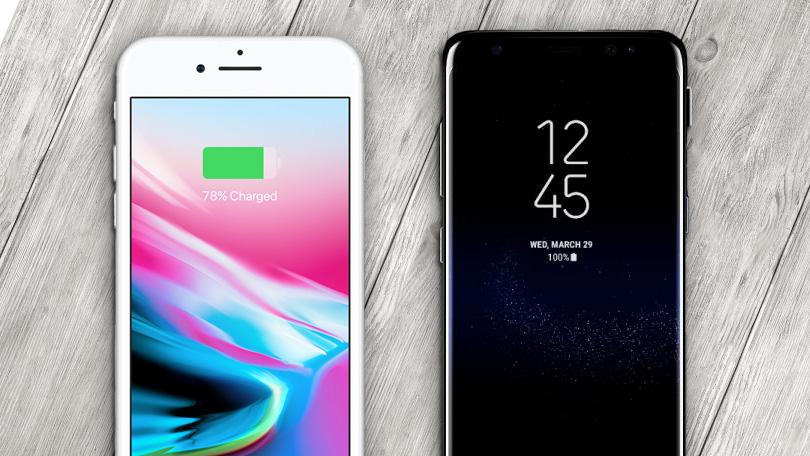 When these two devices, or we can call them rivals, are compared – it's hard to decide which to go for if you haven't used them for a while.
Each of them have advantages and disadvantages, like any other smartphone out there.
I'm an Apple user, but when iPhone 8 is compared to Galaxy S8, I am able to see that the winner, in this case, would be the Samsung. It's the truth and it's something I have to admit.
iPhone's designs are outdated and they've been using the same design since iPhone 6 which came out in 2014. Of course, there are some minor improvements, but it's still an outdated design for 2017.
One of the main reasons is that Apple can't fit a better screen in their design like Samsung can with edge-to-edge displays. iPhone 6 features resolution of 1,334 x 750 pixels, while Galaxy S8 features 2,960 x 1,440 pixels.
Apple has introduced the wireless charging which everyone has been waiting for so long, and the fast charging is available, but it's not that simple. Apple still ships iPhone 8 with old 5V power adapter. If you want to be able to use fast charging, you will need to purchase the USB-C lightning connector separately.
It's not an ideal situation if you have just spend a lot on a new smartphone.
Samsung Galaxy S8 beats iPhone 8 in design and display. However, when it comes to the smart assistant – Apple's Siri is the one who wins. Samsung's Bixby is still in development and it will take them some time until they make it perfect.
One thing I have noticed with Samsung Galaxy S8 is that the fingerprint sensor is kind of too hard to reach. I think I have pretty normal sized hands, and I still have had problems reaching it.
Also, if you thought that the Apple is unfair for not shipping it with the USB-C lightning connector instead of charging for it additionally, you won't like that the price of the Galayx S8 is $100 higher than the Galaxy S7 was.
Conclusion
Both phones have advantages and disadvantages, and each phone has features that are better than the features in the other phone.
I'm an Apple fan and I don't think that the iPhone 8 is really worth the money it's selling for. I'd advise you to think about the iPhone X, or even seriously consider the Samsung Galaxy S8.
Samsung Galaxy might cost more than the Galaxy S7, but in my opinion, it's totally worth it.
It's always tough to choose between two rivals, but it's just a matter of personal prefrence. Consider all aspects of both phones and research each phone to the fullest before deciding which one will be your next phone.